I'm so super excited to announce the..............
Julie
and I had SO much fun putting it together last year and it was such a hit, that we decided to do it again. We would love to have you join us this year - it's meant to help us connect with other bloggers, get a fun little snail mail package, and celebrate Christmas...all without breaking the bank.
Here's how it works:
1) Sign up will run today (11/12) through Monday, November 19th.
To sign up, please leave a comment on this post with your:
-Name
-Email address
-Blog URL
2) On Monday, November 26th, we will announce partners and y'all can exchange addresses.
3) Purchase an ornament for your partner (spending limit is $15).
4) Ship your ornament by December 5th.
5) We will have a link-up on both of our blogs on December 17th so we can show off our new ornaments!
And if you want to spread the word, here's the button!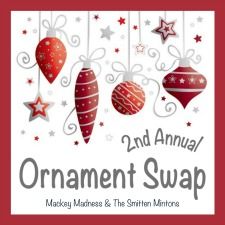 Isn't the button totally adorable? Designed and made by Julie. The girl has some serious talent.
Email me (mackeymadness(at)gmail.com) if you have any questions!