I had to work a night shift Sunday. A whole 12 hour one.
Luckily I got to work it with one of my best friends,
Kay
, who is also pregnant. She's two weeks ahead of me. Both of us are used to working days. We knew it was going to be interesting (horrible) from the moment we volunteered to do it.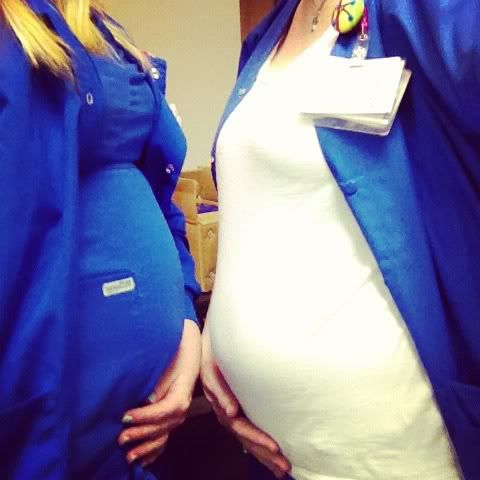 This is the only picture that I have of us...from almost 2 months ago. We have grown.
Here's what I learned while on the night shift:
- I eat when I'm bored/tired and I would get fat if I worked nights all the time. We ordered pizza and each ate a whole entire large pizza on our own. Yes, I said large. Granted, it took all night, but still. We also had cookies and lots of candy.
- Patients are nicer at night. They are asleep. ; )
- You can only sit in one chair for so long before your butt goes numb.
- A hospital is pretty spooky at night. It makes the perfect scene for a scary Lifetime movie.
- When the clock strikes 4 am, delirium sets in.
All in all, it really wasn't that bad. I actually kind of liked it, which makes sense because I've always been a night owl. I even got off at 7 am and went shopping for a few hours, which was super nice because no one was in the stores yet. I got tons of Christmas shopping done.
I'm back to days the rest of the week, but I'm totally up for working a night shift again.

On a side note, I'm looking for a few more bloggers/shops/businesses to join me for a huge group giveaway. Email me if you are interested...I'd love to have you!

PS: Don't forget to enter my giveaway from yesterday!